Playfully rise to the pinnacle together
Discover your team's true potential
Experience team development in a new way with LEGO SERIOUS PLAY
Every team has undiscovered strengths and talents. Our team building sessions with LEGO SERIOUS PLAY open doors to deeper communication, creative thinking and real cohesion. With LSP, bricks become bridges and everyone contributes to the bigger picture. Don't wait for the magic to happen – let's make it happen together! Discover how LEGO can transform your team now.
Start team development now
Your Team Building Workshop with LEGO SERIOUS PLAY
Why is team building important?
Google's
Project Aristotle
research study has shown that the success of a team is more than just the sum of its parts. Psychological safety plays a crucial role. This is where our team workshop comes in: we create an atmosphere of openness and mutual respect that is the foundation for effective teamwork.
Team building with deep impact
What obstacles do teams face on the road to success?
Many factors can hinder the effectiveness of your team:
// Unclear communication
// Lack of transparency
// Uncertainty due to change
// Integration of new members
// Interdisciplinary barriers
All these factors can lead to misunderstandings, poor communication, loss of trust within the team, lack of adaptability, low productivity, inefficiency and conflict.
Together, tangible, brilliant: Team success with LSP
The LEGO SERIOUS PLAY method enables everyone to participate on an equal footing. Complex issues become tangible and understandable.
// Open communication: Everyone is equal and every voice counts.
// Simplifying complex issues: Through visual and tactile elements.
// Active participation: Everyone is part of the process and contributes to success.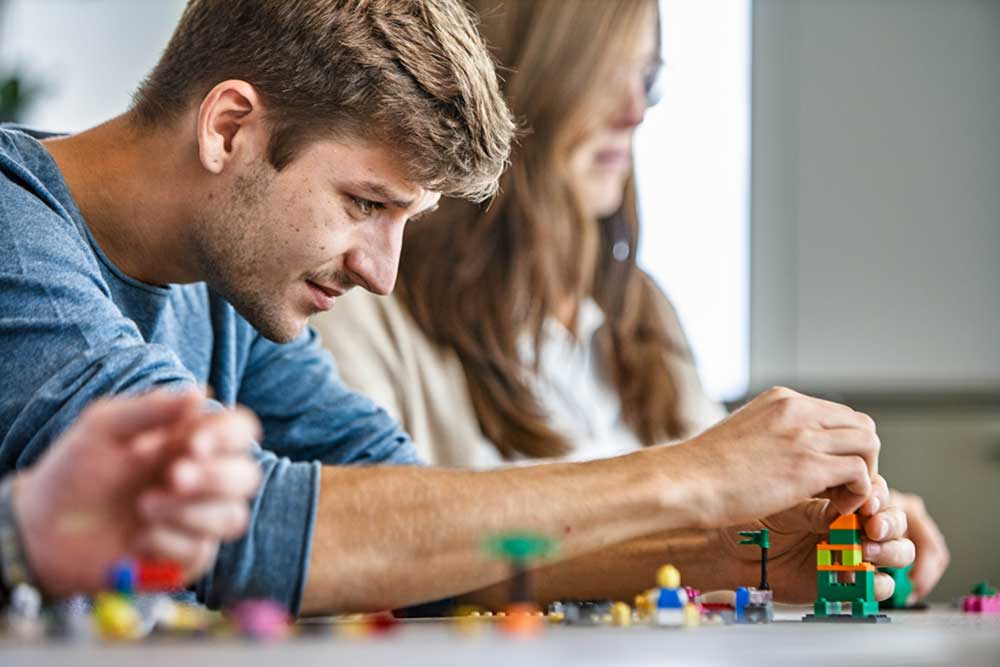 What is better after the workshop?
Attending one of our workshops brings tangible improvements:
// Improved cooperation and communication
// Increased identification with the team
// Increased effectiveness and productivity
// Increased performance
// Conflict prevention
What is the recipe for success for your team workshop?
There are no one-size-fits-all solutions. Each workshop is individually designed and tailored to the needs of your team:
// Initial discussion: We define the objectives and challenges together.
// Workshop design, alignment, approval: Tailored to your objectives
// Workshop execution
// Documentation
// Debriefing 1 & 2: Reflection and follow-up
Effortlessly build team strength
Embark on a journey to a stronger and more harmonious team with LEGO SERIOUS PLAY. Experience innovation, creativity and true teamwork.
Adresse
Eulengasse 48, 60385 Frankfurt
Germany