Brickolution helps its customers from all industries to make the most out of the knowledge and experience of their employees and thus to develop new ideas for creative solutions equally and with full commitment.
We prove: We solve problems playfully!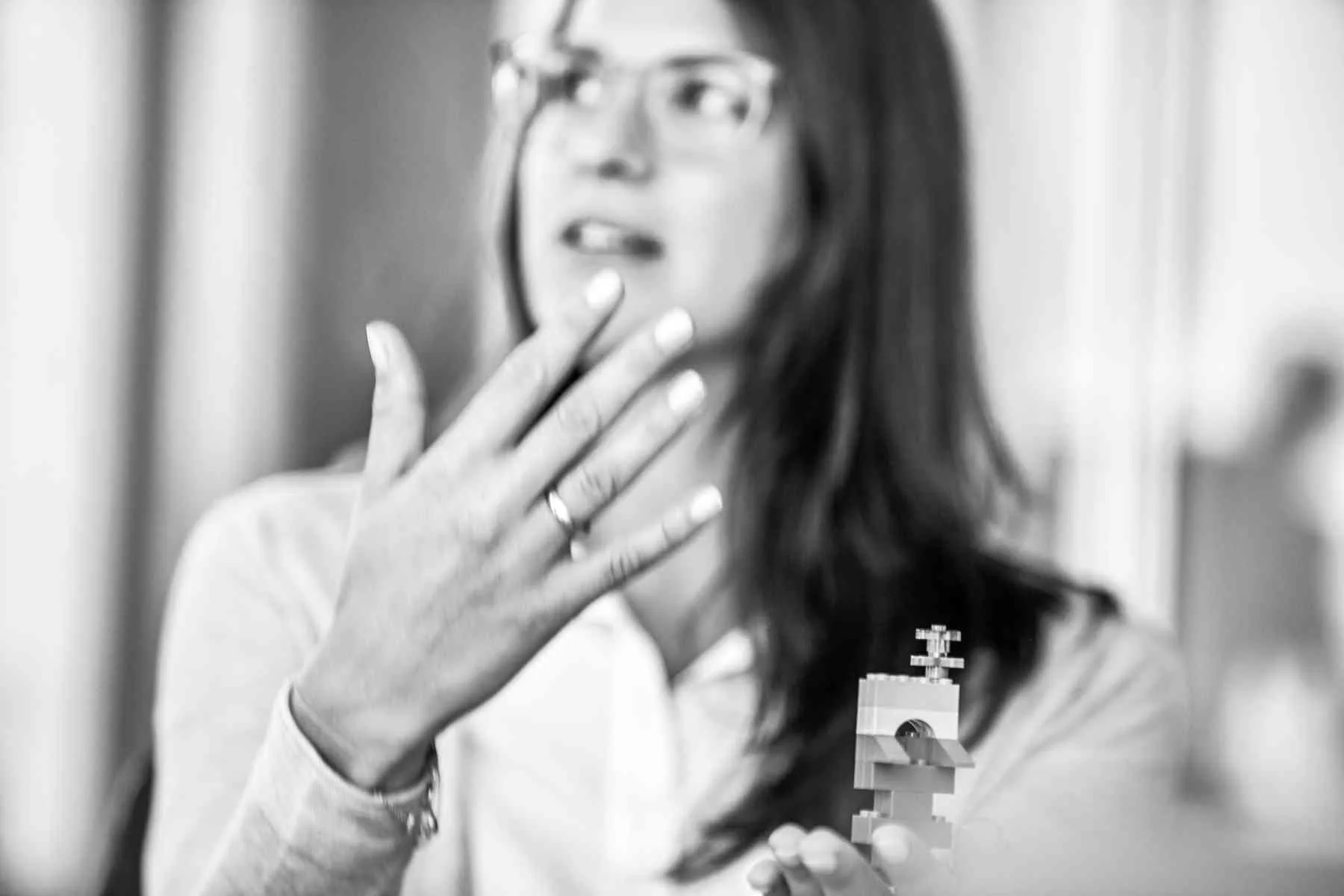 There is a simple solution for complex problems:
LEGO® SERIOUS PLAY®
LEGO® SERIOUS PLAY®
brings the knowledge of
all workshop participants
out of the head and onto the table.
LEGO® SERIOUS PLAY®
taps your entire knowledge,
not just the usual 10%.
LEGO® SERIOUS PLAY®
participates equally –
regardless of hierarchy, culture,
perspective.
LEGO® SERIOUS PLAY®
= 100% factual level
+ 0% relationship level.
LEGO® SERIOUS PLAY®
Thanks to the in-depth exchange
and full participation, problems
are dealt with more quickly than with
using conventional methods.
LEGO® SERIOUS PLAY®
We are talking about solutions,
not about people.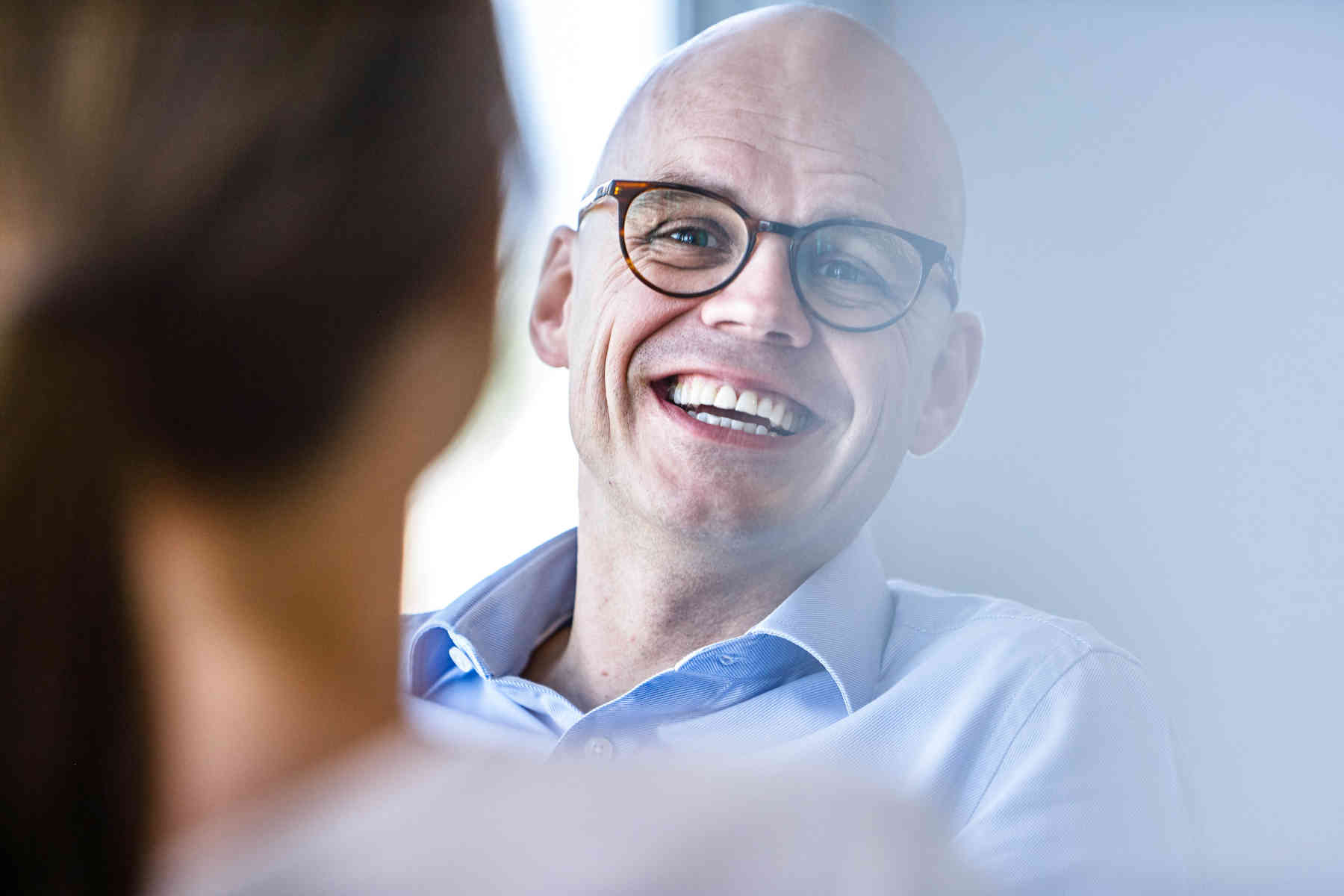 "I help people and organizations to get into a dialogue easily and to develop new ideas for creative solutions."
From 2005 to 2017, as an IT consultant, I designed and implemented automated solutions to measure business processes of international companies, and I designed training courses in German, English and French.
Since 2017, I have been supporting companies in the IT, banking, insurance, chemical, and pharmaceutical industries as well as in public administration with LEGO® SERIOUS PLAY® to turn meetings successful and to solve complex problems with ease. I'm enthusing my customers for this powerful method.
As a computer scientist I have learned to proceed analytically and in a structured way. As a certified mediator and trained coach I am used to listen actively. I am disposing of the right level of empathy and sensitivity along with providing the necessary tools to leverage LEGO® SERIOUS PLAY®. In this way, I'm enabling my customers to make maximum use of their employees' knowledge and experience. The method LEGO® SERIOUS PLAY that I use ensures that everyone is involved on an equal and committed basis.
For years I have been proving again and again:
We solve problems playfully.
That is behind LEGO® SERIOUS PLAY®:
What is LEGO® SERIOUS PLAY®?
LEGO® SERIOUS PLAY® is a process-based, guided method to promote holistic thinking, to facilitate communication and to solve problems. LEGO® SERIOUS PLAY® is used by teams and groups when dealing with complex questions in meetings or workshops to achieve faster and better results.
How does LEGO® SERIOUS PLAY® work?
LEGO® SERIOUS PLAY® is a process-based, guided method. Prior to the workshop, a qualified facilitator prepares questions that build on each other from everyday business life. In the workshop, the participants build answers to the questions using LEGO bricks. When presenting and discussing their models, those aspects are disclosed that would never have been brought up using traditional methods. Formal or abstract ideas suddenly become concrete and tangible and more understandable. Thought processes associated with physical experience allow a deeper and more sustainable understanding of thoughts than by just talking about them.
When did LEGO® SERIOUS PLAY® come into existance?
LEGO® SERIOUS PLAY® (LSP) was officially launched in 2002.
What makes LEGO® SERIOUS PLAY® so specific?
With LEGO® SERIOUS PLAY®, organizations generate more ideas, opinions and knowledge in less time. The participants are more involved and committed, they stand behind the jointly developed solutions and are more productive.
Many participants in a LEGO® SERIOUS PLAY® workshop report that for the first time they were able to express their view of things comprehensively and in all complexity. In this way, all participants understand what their colleagues think, what their motifs are and what importance they assign to individual aspects.
This knowledge gained in the workshop enables participants to develop step by step solutions to complex problems and scenarios.
How does a LEGO® SERIOUS PLAY® workshop work?
Each participant receives their own LEGO set and, in response to a question, builds models that are the starting point for further exchange and engagement with the problem or topic. Imagination and inspiration are promoted when visualizing topics.
For the design of the workshop, a trained facilitator divides the problem into smaller questions that build on one another and are worked on step by step during the workshop. The facilitator uses the core process (link) and various application techniques.
The facilitator accompanies the process and encourages the participants to exchange ideas, to discuss and to take decisions.
He offers a protected space in which perspectives can be exchanged with equal rights and across hierarchies. This creates a unified understanding of even complex problems and promising solutions are found reliably.
What is the core process and which application techniques are there?
The core process consists of the following four steps:
The facilitator asks a question
An individual model is being built as an answer
The builders share the history of the model
Reflection phase
In addition to the core process, there are other application techniques. With the help of these techniques, united models are built, solutions are clustered, highly complex systems are created, simulations are created and simple principles of action are derived.
How long does a LEGO® SERIOUS PLAY® workshop take?
As a rule, 1-2 days are estimated for complex questions. Simpler questions can be dealt with within half a day. Different perspectives on a topic can already be seen after approx. 2 hours.
How much does a LEGO® SERIOUS PLAY® workshop cost?
Each workshop is designed for the respective problem and the customer and then worked on with the participants. The costs depend on the complexity of the task and the duration of the workshop.
How many people can participate in a LEGO® SERIOUS PLAY® workshop?
LEGO® SERIOUS PLAY® is a method that works with teams or groups. This means that you can start with two people. There are no upper limits to the number of participants, even workshops with more than 1,000 participants have already been carried out.
Usually the type of task changes with the number of participants.
Which participants are required for a LEGO® SERIOUS PLAY® workshop?
Participants must all be directly affected by the problem.
Are spectators allowed in a LEGO® SERIOUS PLAY® workshop?
No.
The participants in the workshops exchange their views and share their own points of view. This can only happen in a protected room. Any viewers block the openness and are not allowed. Of course, after the workshop, the results can also be presented outside the group of participants.
Are there any questions that are not suitable for LEGO® SERIOUS PLAY®?
If you are dealing with yes / no questions or a previously defined decision is to be communicated, this is not a use case for LEGO® SERIOUS PLAY®.
LEGO® SERIOUS PLAY® is particularly powerful when it comes to dealing with complex issues where it is important and necessary to get the opinions and views of all participants on the table.
Who invented LEGO® SERIOUS PLAY®?
The original idea was invented by Kjeld Kirk Kristiansen in 1995, the owner of LEGO®, Johan Roos and Bart Victor (then both at IMD Lausanne).
The method was then developed by Robert Rasmussen (then LEGO® employee) between 1999 and 2001.
Feel free to contact us at any time – we will take care of your request.
Address
Eulengasse 48, 60385 Frankfurt
Germany